Michael Sheridan Stone
Biography
Michael Sheridan Stone was born among the Chiltern Hills in England but spent his formative years in Rhodesia (as Zimbabwe then was). He returned to the country of his birth in his early twenties to study at Oxford as a Rhodes Scholar and has lived in England ever since, practising as a lawyer in industry. However, he remains steadfastly African in heart, spirit, temperament and voice. He is committed to the identification and advancement of the next generation of leaders in Africa and serves as a Director and Trustee of the African Leadership Institute.
Where to buy in print
Books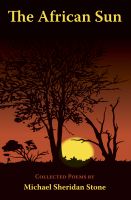 The African Sun: Collected Poems
by

Michael Sheridan Stone
'The African Sun' is an eclectic collection of poems linked by one common element, the author's abiding love for Africa. He rejoices in adventures with elephants, leopards, lemurs, snakes and elusive birds, protests at the precipitous decline in the quality of life in his former homeland of Zimbabwe (whilst taking some comfort from the enduring tradition of ubuntu).
Michael Sheridan Stone's tag cloud