Sheila Harrington
Biography
Writing is something of an interest for me, and I've pondered an autobiography for years. There's parts of it done, but it's not all tied together yet. Meanwhile, I work as a graphic designer/illustrator. Most of that work is in the printing field, basic illustrations and graphics, logos, etc., nothing too fancy. I've done a few covers for other writers; this is the first time I've done one for my own!

I like writing in the first person, as you see here in "Lust at the Checkout." There's a certain kind of flow that takes place as you imagine yourself in that situation, recording everything as it happens. It's a little tricky doing it this way, and it's not the preferred method, but for my character Sharon Ellis, this is the way it happens. I'm toying with a few different stories, different genres and characters, most likely written in third person instead. We'll see what works.

I live in Southern California, enjoy the sun, tolerate the traffic, and hope to someday move to a quieter spot with a patch of land. All in good time.

Oh, and of course Sheila Harrington's a pen name. That's obvious. It's a combination of what Australian's call women (sheila's) and a street I once lived on (Harrington Street). There's no connection to any other Sheila Harrington's out there; that's purely coincidental.
Books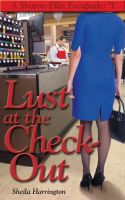 Lust at the Checkout
by

Sheila Harrington
I'm Sharon, the MILF of your fantasies. I'm about to embark on some of my own for a change. There's plenty of excitement, and a twist or two thrown in to really spice things up! Join me, won't you? This is the beginning of a long and exciting adventure! -- Please Note: Mature Content, for 18 and over. Fiction, 7900 words.
Sheila Harrington's tag cloud