J.E. LUND
Biography
J.E.Lund was born in Belle Fourche, South Dakota and grew up in Manhattan, Kansas. After having lived in Kansas City, Denver, and Phoenix he made his way back to Manhattan where he currently resides. Murk Meadow started as a short story written many years ago while J.E. was a senior in High School. He got an "A". Later, while in college at Kansas State University, J.E. expanded the story just a bit and turned it in as a "longer" short story. This one also received an "A". Years later J.E. decided to turn Murk Meadow into a full length book. Without telling anyone where he was going, J.E. packed up his car with a tent, a cooler, a boom box, and a word processor and headed to the Black Hills of South Dakota to write. He lived in a tent for three months while writing the first four chapters of Murk Meadow. One night he came "home" to find a raccoon in his tent eating all his food. This actually made it into the book! After the initial four chapters, J.E. didn't write again for years. Murk Meadow was quite the stop and go project. He wrote bits and pieces of it everywhere he lived; Kansas City, Denver, Phoenix, and Manhattan. Even after finishing Murk Meadow, he let it sit for a year before ever publishing it. Though it took years to complete, Murk Meadow has turned into a book that really connects with teens and twenty somethings. (Based on the original sampling group of 20 individuals). Look for future works of fiction from J.E. Lund coming soon.

J.E. Lund enjoys writing, reading, wine, dark beer, Border Collies, Aquariums, and a wide range of music. In his spare time he enjoys playing golf and racquetball and following college sports. He is currently single and looking and his dream is to someday make Murk Meadow into a movie.
Books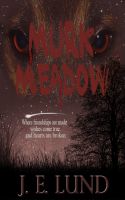 Murk Meadow
by

J.E. LUND
(5.00)
Tired of vampires and fantasy? Then take a trip to Murk Meadow where each chapter is its own adventure. Murk Meadow is the story of six friends who stumble upon a stray dog while camping in a secluded meadow and the wild adventures that follow. A story about the powers of friendship, the belief that things can change, and the love of man's best friend.
J.E. LUND's tag cloud