Jim Furtado
Jim Muse Furtado is a Grandmaster who has spent decades of his life connecting to the spirituality within marital arts. He began his journey in 1973: while studying in Baltimore, Maryland, he received instruction in the Kang Duk Won Kwon Bop form of Kung Fu, a style practiced in Korea, and has since trained with and studied under one of the most skilled Kung Fu masters; Paulie Zink.

He has studied and mastered the arts of Tai Shing Pek Kwar Northern Monkey Kung Fu, Taoist Yoga, Chi Kung and has several honors to his name; Six Time World Champion, a National Champion, Eleven Time International Long Beach Karate Champion, West Coast Champion and Inducted into the USA Martial Arts Hall of Fame fourteen times. Grandmaster Furtado has a Doctorate of Martial Arts in Philosophy & Martial Arts Science and has been awarded the high honor of a Golden Sash. This is a collection of the spiritual knowledge that Grandmaster Furtado has gained in the course of his years as a martial artist.
Meditations and Inspirations
Book Trailer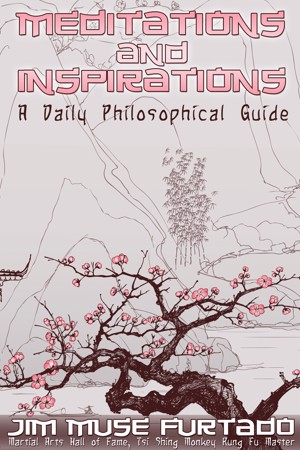 Meditations and Inspirations
by

Jim Furtado
In my silence, lies my power Come along on a Journey to find yourself; follow the path to open your consciousness and reach a higher level of being. Discover your inner light and new possibilities, along with new beginnings.