Mitch Martin
Biography
Following in the footsteps of his ancestors, some of whom were circuit-riding preachers, Dr. Mitch Martin shares the gospel through story, symbol, and Scripture inclusion. Martin, a registered Chickasaw Indian from Oklahoma, is a graduate of Oklahoma Baptist University and Golden Gate Baptist Theological Seminary. He and his lovely wife, Myra, make their home in Tennessee, where on a good day you can find him drinking coffee with a young champion talking about the ways of God. There's nothing Martin likes better than trying to make profound spiritual truths simple to grasp.
Where to find Mitch Martin online
Books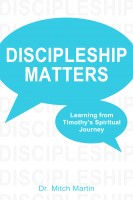 Discipleship Matters:Learning from Timothy's Spiritual Journey
by

Mitch Martin
Come along with Timothy as he goes on exciting adventures with the Apostle Paul. As you travel with them you will experience the first-century Roman Empire and learn life-lessons from arguably the greatest Christian who ever lived. Once your journey is complete you will know more about identifying with Jesus Christ and be better prepared to assist others on their spiritual journeys.
Mitch Martin's tag cloud