Mychal Massie
Biography
Mychal S. Massie is an ordained minister who spent 13 years in full-time Christian Ministry. He was founder and president of the non-profit "In His Name Ministries." He is the former National Chairman of the conservative black think tank, Project 21-The National Leadership Network of Black Conservatives and a former member of its parent think tank, the National Center for Public Policy Research. In his official capacity with this free-market, public-policy think tank, he has spoken at the U.S. Capitol, CPAC, participated in numerous press conferences on Capitol Hill, the National Press Club and testified concerning property rights pursuant to the "Endangered Species Act" before the Chairman of the House Committee on Resources. He has been a keynote speaker at colleges and universities nationwide, at Tea Party Rallies, as well as rallies supporting our troops, conservative presidents, and conservative causes across the country. He is an unapologetic supporter of our right to own and carry firearms.
Where to find Mychal Massie online
Books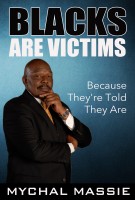 Blacks Are Victims: Because They're Told They Are
by

Mychal Massie
Mychal Massie's definitive expose into race, race relations and why I believe blacks are victims. This book is based upon the way I was raised; my observations and personal experiences during this journey called life, and my unwavering faith in the Triune God of Scripture and what He has done in and with my life, ushering me from a life as a sinner bound for hell, to a sinner saved by grace.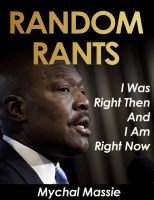 Random Rants
by

Mychal Massie
A provocative, outside-the-box, visionary thinker, author Mychal Massie has been called the "black male Ann Coulter" by liberals who condemn him and "George Will on steroid. Here he offers a compilation of his favorite writings and syndicated columns from his wildly successful "The Daily Rant".
Mychal Massie's tag cloud