Shontel L. Graves
Biography
Growing up as a child, I've read various children's books about children dreaming of becoming a doctor, astronaut, nurse, and some even a SUPER HERO, but none dreamt of becoming a writer. I was always taught that the beginning of a new idea starts on paper. Paper has been one form of communication since the beginning of time. Paper has brought laughter, education, and encouragement to those who seek it. And that's what I've dreamt of doing growing up as a child, bringing happiness to the world through my writting. Now as an adult, I've done it. I'm living my dream by bringing smiles to children's faces through my books which is what matters the most, because I'm a firm believer that what a child reads set the standards of the child's views on life!
Books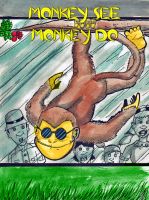 Monkey See Monkey Do
by

Shontel L. Graves
This funny monkey conjures up a brilliant plan to escape from the zoo. See how!
Shontel L. Graves' tag cloud