Ron Graves
Biography
Ron Graves was born in San Diego and graduated from San Diego State University with a double major in biology and history and a minor in journalism. After college, he opened a small chain of restaurants and then began a career in commercial real estate. Later, he opened his own agency, interacting with private development companies, as well as the politicians governing their pursuits. Years of observing and learning how differing factions promoted their political views into creating projects, supplied Graves with valuable insights.
Those insights brought him back to an unfulfilled desire to write a novel. Long an admirer of writers such as Robert Ludlum, Steve Martini, Tess Gerritsen, Michael Crichton and Vince Flynn, Graves launched more aggressively into novel writing about 15 years ago. In addition to his first novel, Blank Slate, his second book, Moving Parts, will be released in the summer of 2013. He's currently working on his third.
Ron lives in San Diego and travels extensively.
Books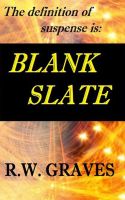 Blank Slate
by

Ron Graves
(5.00)
How would those at the highest levels of government and power react when they learn of classified technology which would enable them to totally control others…remotely?
Ron Graves' tag cloud