Myron X
Biography
I was born on the coast of New Jersey, about six blocks from the beach. My dad was from down south, Raleigh, and my mom was a Jersey girl. My dad was (and is) a staunch capitalist, and started his own business when he and my brother were kids.

By the fifth grade, we moved to Washington D.C., where we've been ever since. For some reason the Jersey never left me, and to this day, I cannot convince anyone I'm not from New York City.

My first "writing" moment also happened in the fifth grade. My parents were called into a parent\teacher conference by my teacher Ms. Starr. She looked like Twiggy and had a decent jump shot. I thought I was in trouble again, but she had called them to praise a short story I had written. She said I had talent, and I should keep writing. So I did. And I've always had Mom and Dad's support ever since.

I learned how read (and probably write) reading MAD Magazine. I was a passionate collector, and didn't care for any other children's literature. I remember reading "Charlie and the Chocolate Factory" series, but that was it. I was far more interested in what my parents were reading.

I replaced Mad Magazine with Heavy Metal Magazine, which expanded my idea of story far and wide. I'd also found Doonesbury, which taught me a lot about characters. I was in high school by now, and I have to say, all my English teachers were very supportive. The last one, Ms. Weaver, a kindly old white lady said "You have the gift of gab on paper." Never forgot that. In fact, that fueled my study and practice of dialogue for years.

One of my first efforts as a professional writer was as a screenwriter for a group of gangsters with a lot of time and money on their hands. They were goofballs, but they paid in cash and you did not want to miss a deadline with these cats. Even so, I did get paid for writing a story. I wrote several more spec scripts and took my first shot at a novel. It was over three hundred pages and when I wrote "The End" I felt like I had run a marathon. To me, those are still the best two words you can write. Some writing guru I can't remember said you should write your first novel then put it in a drawer and start another one. So I did.

I wrote "Sugar Daddy" first, then "Word Is Bond", "The Clean-Up Woman", and "The Ana Marx Show". I told myself I wasn't going to publish anything until I had completed at least three manuscripts. These were the "woodshedding" years.

It was during those years I had the most doubt. One of the most painful exercises I did was to go to a Barnes & Nobel and look around at all the authors who were ahead of me. Good, bad or otherwise, if they were in the store, they were miles ahead of me. I quit writing, or at least, trying to get published several times. But I never stopped writing. When in doubt, just keep going.

Which I do to this day. Keep going. And unlike many other writers, I embrace the technology of this day. If fact, I've written two novels on an iPad mini, which I keep in my coat pocket.
Books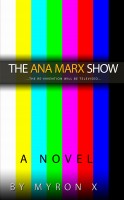 The Ana Marx Show
by

Myron X
A former model awakes from a coma and struggles to put her life back together. She inherits her uncle's car repo business and turns it into a reality TV show. For the season finale, she tries to repo an airplane from a notorious Mexican drug lord.
Myron X's tag cloud