Dusti Mirrors
Biography
Dusti is a writer, nurse, and jack of all trades who enjoys life and tries to help others enjoy life using her experiences. Her lifelong passion to write has brought her here, this is just the beginning. There are more stories and help to come. Remember this name, Dusti Mirrors, a different way to look at the past and future together.
Books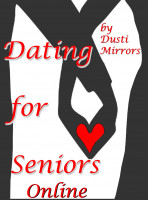 Dating for Seniors Online - The Online Dating Scene Re-visited by Dusti
by

Dusti Mirrors
I can tell you all about online dating for Seniors.These are lessons learned and tips for returning to dating as a senior. There are stories from my own experiences and from my friends who have graciously shared them with me. Some of these stories are humorous and some are sad but all of them are true, Dating doesn't have to be scary if you are prepared.
Dusti Mirrors' tag cloud