Dr. Robert Gange
Biography
Robert Gange is a research scientist, NJ State certified professional engineer, and an adjunct professor. He was on staff for over 25 years at the David Sarnoff Research Center in Princeton, New Jersey. His experience embraces guided missiles, laser technology, holographic memories, hybrid computer systems, image processing, cryoelectric devices and integrated electron gun technology.
Educated in five universities (Ph.D. 1978 for extensive research on the application of cryophysics to information storage and retrieval systems), he has made pioneering contributions in several scientific fields, has published numerous papers and is a member of several professional societies including the American Association for the Advancement of Science, and the New York and New Jersey academies of science.
Dr. Gange has received many corporate awards for outstanding achievement both in Science and in Engineering, has been personally honored on nine separate occasions by the National Aeronautics and Space Administration (NASA), and holds over thirty base patents with foreign filings in over twenty-three countries.
Books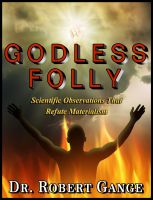 Godless Folly: Scientific observations that refute materialism
by

Dr. Robert Gange
Godless Folly applies scientific observations to refute the widely held belief that all that exists is physical matter and its motion. Discussed are the human soul, the 'observer' in quantum physics, abrupt weight-loss reported at time of human death, human and animal life, the 'Near Death Experience' and human consciousness. The book is supported by 3 tables, 5 appendices and about 40 references.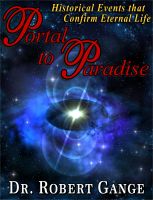 Portal to Paradise
by

Dr. Robert Gange
(5.00 from 1 review)
Portal to Paradise examines historical events that show the reality of spiritual activity, trustworthiness of the Bible, and deity of Jesus Christ. Mathematical implications of accepted prophetic events unveil the statistical impossibility of Christ being other than who He claimed to be. Included are life's advent, evil's origin, the reprogramming of humans and the fate of life beyond the grave.
Dr. Robert Gange's tag cloud