N Koss
Biography
I was born in Detroit, Michigan and lived in the suburbs outside of Detroit. I graduated from Eastern Michigan University in 2006 with a major in Art History. I currently reside in Saline, MI. My love for writing started in elementary school but most of my stories were unwritten and told like folklore. My early tales were "spooky stories" as my younger brother remembers but my first book "The Lunar Ring" is a mish mash of science fiction that includes the paranormal, cryptozoology, conspiracy, spirituality, suspense, political, romance and more. The story fits together quite nicely leading to a future sequel.
Smashwords Interview
Books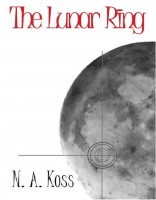 The Lunar Ring
by

N Koss
When Danielle discovers a plot to destroy the moon, a phone conversation to her best friend Narnia about it is illegally tapped by a rogue government. When Danielle and Narnia decide to write a fictional conspiracy book about it, they become separated. They both encounter adventures while in constant danger.
N Koss' tag cloud