Naomi Lara
Biography
I've been writing for more years than I care to count, but I love it. Fallen Angel is a story that's taken me about two years to write and it's been a wonderful journey. I am working hard to publish this story, so if a publishing company is interested, please feel free to contact me.

Fallen Angel is Book One of my series. I'm already hard at work on the sequal, Dark Autumn, which is going to be mind-blowing.

A little about me: I am an adventure lover; I kind of wish I was born about 150 years ago - I'll be one of those crazy girls trailblazing through the uncharted Amazons or Australia. I'm also really interested in playing sports and in challanging myself by doing things such as climbing, splunking, hiking and all that fun stuff.

I also am a volunteer with a rescue organisation, so I'm involved in all sorts of things that have given me the opportunity to learn some great skills and to have some amazing experiences.

To contact the author, please email at: caelli.rivers@gmail.com
Books
Dark Autumn (Book 2 of the Caelli Rivers series)
by

Naomi Lara
When two skeletons are uncovered, seperated by decades but connected to one man, Caelli Rivers knows that something is a little hinky. When more deaths are discovered, Caelli knows something is definitely wrong. Digging through the past, rumours about a old European family steeped in bloody deaths and suspicious disappearances begin surface and it all started with the death of Nicolas Flamel.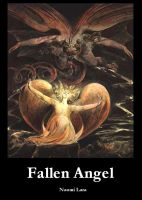 Fallen Angel (Book 1 of the Caelli Rivers series)
by

Naomi Lara
Melbourne is in the grip of fear as a serial killer stalks the streets, murdering innocent people in gruesome ways. There are no clues, no suspects and no end to the carnage in sight. Caelli Rivers is a homicide cop caught between two worlds as a three thousand year old banshee living among humans. She needs to stop the killer, otherwise all hell just might break loose.
Naomi Lara's tag cloud