Jon A. Hunt
Biography
"The Great Yellow Doom Bird" is Mr. Hunt's third book, and the first he's gotten up the nerve to cast before the general public. He is an ardent fan of the outdoors, photography, old books, Labrador Retrievers, fast cars, travel, theater, coffee, classical guitar and the blues, not necessarily in that order. When he isn't scribbling on a new manuscript or fiddling with camera equipment, Mr. Hunt is either working at his day job or spending time with his lovely wife and exuberant canines. The Hunts are happily ensconced in the woods of Vermont.
Books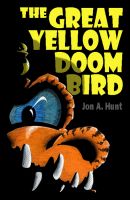 The Great Yellow Doom Bird
by

Jon A. Hunt
(4.67)
No one in drowsy East Palmetto Grove expects the arrival of one freckle-faced orphan to generate much excitement. There's a war going on, after all. But Patrick Digby is no ordinary boy and that rubber duck he clutches....well, the rubber duck isn't at ALL what it seems...
Jon A. Hunt's tag cloud