Nathan B. Dodge
Biography
Educated in electrical engineering, Nathan worked as an engineer and engineering manager, primarily at Texas Instruments, before joining the University of Texas at Dallas as a teacher. He taught full-time for 16 years and continues to teach half-time.
He is married to Faye Lynn King, Ph.D., herself a long-time professor of Social Science in Dallas. She is Nathan's copy editor, specializing in grammar and preventing the author from his most frequent bad habit of using too many commas. He has three daughters, the youngest of which, Sharon, is also an author.
Nathan began writing seriously in 2012 and has attended seven Superstars Writing Seminars. He has a story in the Purple Unicorn Anthology with daughter Sharon, and a short story sale to Mike Resnick's Galaxy's Edge. Shadow Warriors, the first of a young adult science fiction series, is his first book sale. He and Sharon will soon release an anthology of SF stories, To the Stars.
Nathan's background is in computer engineering, and he still conducts a sophomore course in digital circuits, assembly language programming, and fundamentals of computer architecture. His teaching awards include two as Best Teacher in electrical and computer engineering and a top teaching citation from the university.
In his "spare" time, he loves weight lifting, hiking in Rocky Mountain National Park in Colorado, and solving crossword puzzles with wife Faye Lynn.
Books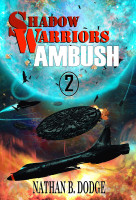 Shadow Warriors: Ambush
by

Nathan B. Dodge
Forced to train as Shadow Warriors, Cal, Letty, Tony, Sasha, and Opi hated each other at first, but became both a crew and a family, finding a way to defeat a galactic enemy. That enemy has returned, with even more dangerous fighting ships. With their commander on trial for incompetence, can they save her career and defeat the enemy once again?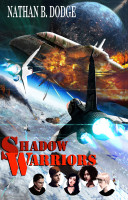 Shadow Warriors
by

Nathan B. Dodge
"Cal's father is a drunk. Letty's rich parents fight all the time. Tony lived on the streets with his mother until she died. Opi's stepmother wants her huge inheritance. Sasha's foster family is abusive. Kidnapped by aliens, they must train as the crew of a galactic fighter to combat an enemy that threatens the entire Milky Way.
Nathan B. Dodge's tag cloud