Naya Clifford
Biography
Even before coming to Maine, I lived in rural America. I feel most at home with the scents of the forest wrapped around me, the wind dancing through the branches and my pup running along beside me. I have worked professionally as a therarpist, teacher and college instructor. This is my first novel. I have another on my computer waiting for editing. Maybe this winter I will get it out.
Books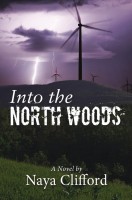 Into the North Woods
by

Naya Clifford
In this exceptional debut novel, "Into the North Woods," Naya Clifford takes the reader on a suspenseful adventure across the crest of the Appalachian Trail, into the lives of a local family thrust into the center of an environmental controversy. Clifford explores conversations about environmental action, racism and religious radicalism in the center of small town America.
Naya Clifford's tag cloud