Neal McKenna
Biography
McKenna worked in the print medium for more than 25 years before becoming a full-time freelance writer in 1996. He is well known in British Columbia's Okanagan Valley as a writer of articles. His work appears regularly in such publications as the Capital News Showcase, Okanagan Life, Okanagan Business, Profile, and Wild Life magazines. Currently, he teaches fiction, creative writing, and article writing at the Okanagan Institute of Creative Arts.

A writer always writes about what he knows best, and that is what McKenna has done. Locations for his stories range from the American southeast, to his hometown in northern Ontario, to his adopted home towns in British Columbia. And, just for the record, Nelson, BC, with its quaint Victorian architecture, is a very nice place to live, but you've got to watch out for the vampires.

McKenna's first fiction sale happened in 1990, when his short story, The Other Nancy, which is included in this collection, was published in a Toronto digest magazine called Sequels. Over the years, other fiction sales followed but "bread and butter" income came from articles and corporate copy writing. He is again diligently back to work writing "dark side" fantasies. Evil Little Stories II is currently in progress.
Books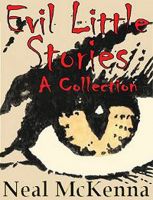 Evil Little Stories: A Collection
by

Neal McKenna
Neal McKenna is a teller of tales that twist to the dark side of the human psyche. In this collection of short stories, he introduces you to a world where freakish events turn the lives of ordinary and not-so-ordinary people inside-out. Each one starts firmly planted in everyday reality but quickly skews off into a nightmarish, yet familiar, realm.
Neal McKenna's tag cloud