Waneda S. Jackson
Biography
Hi, Welcome to my profile page. I did not write a biography because my book, "Turn Around: Life's Testimony", is my biography. This book entails sexual abuse, mental illness and my struggles with alcoholism. This book also deals with death and life. I have found that living and breathing are two completely different things. All these things and more are detailed in my book. Let me show you what God can do if you let Him...
Smashwords Interview
Books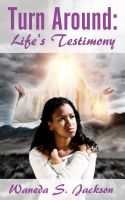 Turn Around: Life's Testimony
by

Waneda S. Jackson
Let me take you on a journey with me through sexual abuse to reality check and a conclusion you will never forget. Gain insight on living with mental illness. My struggles are my own but I cannot honestly take credit for my triumphs. This is not a clinical study and I have also included excerpts from "Whispers", my personal diary.
Waneda S. Jackson's tag cloud