Audry Missions
Biography
Audry Missions is an author and lover living in Pennsylvania. She discovered her love of writing around the time she first felt the pangs of lust coursing through her body and knew she needed an outlet to express it. She is a confirmed nerd, loving Doctor Who, Harry Potter, Lord of the Rings and Game of Thrones (especially the sex scenes).
Books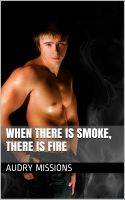 When there is smoke, there is fire
by

Audry Missions
When Kate gets dumped by her boyfriend for being too nerdy she thinks she's having the worst day of her life. Little does she know that when a crisis occurs, she'll find just the guy to take her mind off her ex... and a steamy reminder that love can strike from the most unusual of circumstances and the hottest of places.
Audry Missions' tag cloud