James M. Curry
Biography
One of Jim Curry's bosses told him he was a job inspector, a smart-aleck who would only stay on a job for a couple of months until he taught his employers all he was going to be able to teach them, and moved on. While his father wasn't the boss in question, he was the first boss. Jim started out on the family ranch in northern New Mexico, but did not share his father's passion for agriculture, and went wandering. By age 35 he had held 37 jobs that he can remember, and was unable to get a security clearance with that history. Eventually he finished college (at 37) and law school (at 41) and witnessed, participated in, or flat out invented still more adventures. Some of them are in his first book, "The Man Who Sued the Governor," a collection that draws on material he spent over 70 years gathering.

Other books in the works include:

Jim's Trivia. 100 articles, thousands of items amassed over a lifetime and set down over a decade of newsletters; everything from 19th century sports to 21st century linguistics. 101'st article, only available in the
collection.

The Bad Gambler's Survival Guide. Practical advice from someone who made all the mistakes, and bothered to understand why they were mistakes and figure out how to keep from repeating them.

Casino Nights. What happens in Vegas may stay in Vegas, but what happens in Albuquerque is soon all over the state. Especially if you would prefer
it was kept quiet.
Books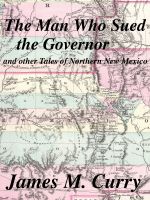 The Man Who Sued the Governor, and other tales of Northern New Mexico
by

James M. Curry
(5.00 from 3 reviews)
In a uniquely New Mexican voice influenced by Tony Hillerman and Mary Austin, Jim Curry's 'The Man Who Sued the Governor' mixes factual events and fictional material in a collection of short stories that bridge the Old West to the New.
James M. Curry's tag cloud