Stanley Markman
Biography
The author is an active professional in that he teaches in the dental school of Rutgers School of Dental Medicine. He is an Associate Clinical Professor and teaches graduate dental students in the specialty of orofacial pain. He also has a private dental practice where he treats orofacial pain patients and also engages in related dental procedures. He is a past president of the Bergen County Dental Society; he has also held other positions in professional dental organizations. He has written professional articles which have been published in peer reviewed journals. In his earlier years he served as a Captain in the United States Air Force. During his career he treated homebound patients for their dental needs using specially designed portable dental equipment.

The author, during his lifetime has written numerous humorous rhymes making special family events memorable. Because of his concerns with right and wrong, morals and ethics, he decided to use his talents to retell old fables so that a moral message is clear.
Books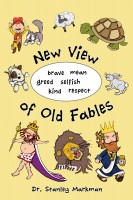 New View of Old Fables
by

Stanley Markman
The stories in this book are familiar fables told in a humorous manner. Each has a valuable message: the harmfulness of greed as in the story of Midas or the arrogance of the Hare in the Hare and the Rabbit; the lies of the boy shepherd of the Fake alarm which caused him an unpleasant life. Each story has a moral message that can readily be discussed with children.
Stanley Markman's tag cloud