Nhaveein Devaraj
Publisher info
Nhaveein Devaraj is a twelve year old Proffesionally Published Author with ASI (Author Solutions) company, Xlibris Corporation. He resides
in Toronto, Ontario. He writes Mystery/Suspense/Crime
and Fantasy novels for kids since he was 10 years old.
Alfred Sheldon and the Abduction was written when
he was 10. It is his very first novel published. He loves
to read the Harry Potter series! The sequel to Alfred
Sheldon and the Abduction is coming soon!
J.K Rowling, his parents and his Grade 5 teacher, Mr. Mark Bell inspired
him to write books. Nhaveein Devaraj has more than 77 digital stories published around the globe. To read some of his popular ebooks just click the digital stories button. Aside from Writing, Nhaveein likes to do Math. At the tender age of 5, Nhaveein received a Gold Medal in a competition of Mathematics against ten year old kids. WOW!

You can visit his official website at www.nhaveeindevaraj.com!
The world of Alfred Sheldon Awaits you...
Where to find Nhaveein Devaraj online
Books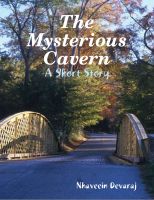 The Mysterious Cavern
By
Nhaveein Devaraj
Price:
$1.00 USD.
Words: 1,190. Language: English. Published: May 22, 2013. Category: Fiction
John, a 11 year old boy plays in a forest nearby a cavern. He gets lost. He discovers a mysterious man. Little, does he know, that the man is a kidnapper.