N.H. Luedke
Biography
I was born and raised in Houston, and currently reside in a much smaller city in central Texas. Encouraged to read at a very young age, I voraciously devour books when time permits and write my own books when it doesn't. My favorite authors include Connie Willis, P.D. James, Jim Butcher, and Craig Johnson.
Where to find N.H. Luedke online
Books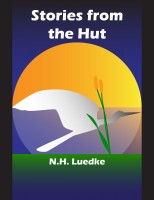 Stories from the Hut
by

N.H. Luedke
These 24 short stories run the gamut of human experiences (from youthful independence to full-blown adventures, and from love unrequited to the danger of revenge) wrapped in the guise of fiction and fantasy with as much humor thrown in to offset the creepy as possible (and there are a few creepy stories, so be warned).
N.H. Luedke's tag cloud