Nicholas F. Benton
Biography
Nicholas F. (Nick) Benton emerged as an honor student from a graduate theological seminary in Berkeley, Calif., in the Spring of 1969 to barge out of the closet in the months prior to the East Coast Stonewall Riots. He co-founded the Berkeley chapter of the Gay Liberation Front, wrote the first editorial in the Gay Sunshine newspaper, become the first officially recognized GLF leader to speak at an anti-Vietnam War rally, wrote countless articles on gay liberation-themed matters for the region's flagship counterculture newspaper, The Berkeley Barb, and co-published The Effeminist, an original gay newspaper that argued for orienting the gay movement in tandem with radical feminism toward an overthrow of the white male chauvinist-dominated society. Overwhelmed by what he called the anarcho-hedonist capture of the movement, he withdrew from active involvement in 1974. In 1987 he founded an independent news service in Washington, D.C., and in 1991, he founded a weekly general interest newspaper in the Northern Virginia suburbs of Washington, D.C. area called the Falls Church News-Press, which is in its 22nd year of consecutive weekly publication.
Where to buy in print
Books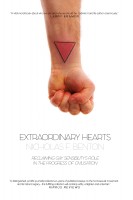 Extraordinary Hearts: Reclaiming Gay Sensibility's Central Role in the Progress of Civilization
by

Nicholas F. Benton
This book is a compilation of 100 columns published under the title, "Nick Benton's Gay Science" on consecutive weeks from October 2010 through September 2012 on the website of the Falls Church News-Press and in print in the Metro Weekly, one of two prominent newspapers for the Washington, D.C. metropolitan area LGBT community.
Nicholas F. Benton's tag cloud