Nichelle Stone
Biography
Dr. Nichelle Stone has lived and worked in just about every corner of the United States, but prefers the warmth of the South because she is a Georgia Peach at heart. Dr. Stone has a diverse educational background, with an Electrical Engineering degree from Vanderbilt University, a Masters of Business Administration (MBA) in Marketing from Clark Atlanta University, and a Doctorate of Education Leadership in Educational Technology through online studies at University of Phoenix.

Dr. Stone is a career changer who spent more than 12 years climbing the ladder in Corporate America, while working at companies such as Westinghouse, Delta Air Lines, and Bank of America before transitioning to the education sector. Nichelle's career shift was facilitated through her work with the Broad Residency in Urban Education, a program that looks for individuals that have successful careers in the corporate world and have a passion for driving positive change in public education. Dr. Stone has applied knowledge from her past experiences, skills and expertise in project management, strategic planning, and organization at a large school district in Florida for more than seven years. Dr. Nichelle Stone also applies her skills and expertise in educational technology while providing instruction to adult learners in the Leadership and Learning Program at Jacksonville University.

Dr. Stone currently resides in Jacksonville, Florida and is the founder and CEO of Virtual Success Solutions, LLC. Virtual Success Solutions is an organization that provides consulting services focused on equipping school administrators and leaders with the tools and resources necessary to develop the skills needed to become highly effective administrators in K-12 and higher education virtual learning environments.
Books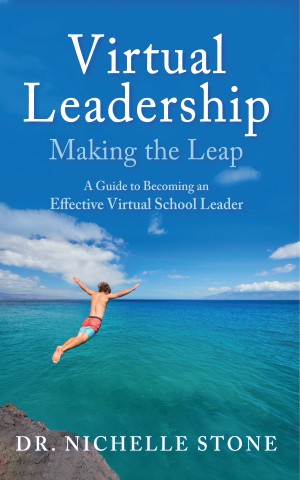 Virtual Leadership: Making the Leap
by

Nichelle Stone
The misguided selection process of leadership over virtual learning programs rose to the top as one of the many reasons Dr. Stone decided to put her dissertation research in layman's terms and write this resource guide for making a successful transition to K-12 administrative leadership over an academic instructional program in a virtual learning environment.