Nick Lenoir
Biography
Nick Lenoir was abandoned in a Romanian forest at the age of one. A pack of wolves took pity on the boy and raised him as best they could. Seven years later, a young girl named Adela went mushroom picking with her mother Tereza in that forest. She spotted Nick staring at her from between the trees. They brought him home, gave him a bath and fed him letter soup. Adela decided to call the child Nick as a tribute to her dead father Neculai and Lenoir because of the boy's raven-black hair. When Nick turned thirteen, Tereza's health began to deteriorate. The woman required a treatment that was available in only one place, a sanatorium in the Swiss Alps. Disguised as a Romanian folklore band on tour, Nick, Adela and Tereza smuggled themselves into Switzerland and established residence in a small alpine village.
Where to find Nick Lenoir online
Books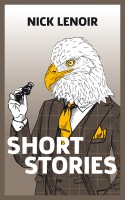 Short Stories
by

Nick Lenoir
This book is a collection of twenty bold, bizarre and funny short stories.
Nick Lenoir's tag cloud