Nils Peterson
Biography
Nils Peterson is an emeritus faculty member of San Jose State University where he taught creative writing and Shakespeare among other things. He has published several collections, including the two mentioned below. In 2009, he was chosen as the first Poet Laureate of Santa Clara County (Silicon Valley).

Some of the pieces published here were originally in poetic form. Those pieces have been rewritten or reformatted. Versions of "My Lecture on Romanticism," "A Story," "A Latin Class" and "Homecoming" appeared in Comedy of Desire, Blue Sofa Press, Minneapolis, 1994, which was edited and introduced by Robert Bly.

Versions of "The Bus," "Christmas Mysteries," "Father Arrives in the Triumphal Car," "The Reading Room," "Sandlots," "A Thing of Beauty," "Learning From My Father," "Go Way From My Window," and "On the Nature of Exposition" appeared in A Walk to the Center of Things, Caesura Editions, San Jose, CA, 2011.

A version of "Letter to Paul Cantrell" appeared in San Jose Studies, and a version of "The Moon and the Bulldozer" appeared in Red Wheelbarrow. Versions of "Halloween," "Yankee Stadium Gone — Impossible," and "Sandlots" originally appeared in The ERFA Newsletter [Emeritus and Retired Faculty Association].
Books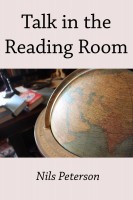 Talk in the Reading Room
by

Nils Peterson
The first poet laureate of the Silicon Valley meditates on the meaning and mystery of memory, looking back on his childhood as the son of a chauffeur in New York and his college days in Eastern Kentucky. This is an insightful and often funny memoir from a member of the last generation to grow up without TV or coed dormitories.
Nils Peterson's tag cloud