Julia Jackson
Biography
Raised in a family with a strong medical background, from childhood she loved and respected this profession. She graduated from one of the country's finest medical schools. As a student, she drank thirstily from the cup of knowledge, and since concluding formal study she has continued to constantly refresh and expand her knowledge. With a talent for scientific research, she has completed several substantial investigations, the results of which she has published and reported at international scientific congresses. She is an avid athlete, has an ear for music, plays several instruments, likes to dance, and speaks a number of languages.
She began writing well into her adult years. An Old, Always Modern Story is her first work.
Books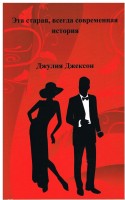 Эта старая, всегда современная история
by

Julia Jackson
История о приключениях доктора Джуди Грин разворачивается на фоне острого захватывающего сюжета, не лишена поэтического вдохновения и пропитана тонким искрящимся юмором. Написана она хорошим доступным языком, читается с интересом и оставляет приятное ощущение.
An Old, Always Modern Story
by

Julia Jackson
It is about young and attractive doctor Judy Green, who finds herself involved in mafia machinations. The story develops against the backdrop of a poignant and engaging plot that is not without poetic inspiration or subtle and sparkling wit. It is written in clear and accessible language and leaves the reader feeling uplifted.
Julia Jackson's tag cloud