Nic Leobold
Biography
Nicolas "Nic" Leobold is a Creator/Entrepreneur, Free Market Anarchist and World Adventurer. He spends his time primarily enjoying fine cinema -- his favorite thing in the world; researching and working in the market anarchist, Liberty and Individual Rights movements, studying investing, playing golf and tennis, engaging in painting and fine arts, practicing ballet (when he can find a good school), and leisure/travel. A former intercollegiate fencer in college, where he studied film production, Nic worked in the American Libertarian Party before learning about free market anarchism, and is also active in the private currency movement, where he created, designed and commissioned the Original Ron Paul Dollar pieces in Gold, Platinum, Silver, Copper and Wood along with LibertyDollar.org. Nic's work and profiles have appeared in Manhattan LP's Serf City, The New York Sun, Fox 5 TV News, WABC7-TV, WorldNetDaily.com, NRALIVE, The New York Daily News, HardFire TV, The New York Times, and The Columbia Spectator, and he has single-handedly garnered millions of dollars in advertising and publicity for the Liberty movement. Nic studied at PersonalMBA.com, The City College of New York, Columbia University, University of Wisconsin-Madison and The Toyota Language Center at The Japan Society, but he never let his schooling interfere with his education. Nic also enjoys target shooting and firearms, and is an avid lifelong spokesman and activist for Gun Rights, RKBA and Self-Defense Rights, having personally created and organized the original u.N.-Welcome Protest against the United Nations gun grabbing tyrants, and The Rally for "Illegal" Guns at New York City's City Hall. Nic has lived in Europe, North America, and Asia, and is constantly seeking out better places to live and experience that offer more Liberty, opportunity, Individual Rights, Self-Ownership, Privacy, Peace, artistry, culture, and free exchange and trade between all people.
Where to find Nic Leobold online
Books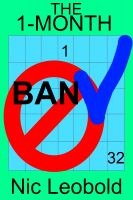 The 1-Month Ban
by

Nic Leobold
The 1-Month Ban, The Fast Easy Solution to All Your Problems, teaches you how to quickly identify, decide, commit and follow through on conquering your most challenging life problems. Dramatic Personal Progress and Momentum in Only 5 Minutes. Total Transformation, Life Improvement and Personal Growth in just 32 Days!
Nic Leobold's tag cloud