Noel Langley
Biography
(1911-1980)
Noel Langley was a successful novelist, playwright, screenwriter and director. While under contract to MGM he was one of the scriptwriters for The Wizard of Oz. He was chosen for the job on the basis of his children's story, The Tale of the Land of Green Ginger — a children's classic which has seldom been out of print since it was first published in 1937. Desbarollda, The Waltzing Mouse is Noel Langley's only other book for children.
Though not primarily a children's writer, several of Noel Langley's many filmscripts were based on favourite classics: Tom Brown's Schooldays (1950), Scrooge (1951), Pickwick Papers (scripted & directed 1952), Ivanhoe (1952) and The Prisoner of Zenda (1952).
Books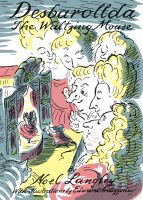 Desbarollda, The Waltzing Mouse
by

Noel Langley
(5.00)
Neil Gaiman said "I read the first paragraph and was hooked. A sixty-three page eighteenth century novel in the grand manner about a waltzing mouse. Of course." Noel Langley's "studiously and faithfully compiled" history of Desbarollda was originally published in 1947, and now appears as an ebook for the first time. Edward Ardizzone created the splendid colour illustrations.
Noel Langley's tag cloud