mike lewis
Biography
C. Mike Lewis, The Book Guy If you don't want to wait another 10 years to be known...you need to be in a book now! It Doesn't Matter That Mike has created and published over 600 best-selling authors, published over a dozen of his own bestselling books, has 40+ years of experience in marketing, selling, speaking, and coaching, that he previously owned and was CEO of a $100,000,000 company. What Does Matter Mike's passion for turning the real-world experiences of successful entrepreneurs, CEOs, and seasoned business experts, like you, into best-selling printed books, and positively impacting their lives. As the publisher at the top Ghost Publishing firm, Branded Expert Publishing, Mike specializes in books and tools for building your business, while increasing your authority as a best-selling author. Set your excuses aside and decide to take the steps you know you need to become the Branded Expert in your niche.
Where to find mike lewis online
Books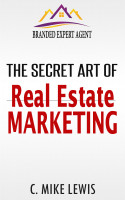 The Secret Art of Real Estate Marketing
by

mike lewis
Foundation Building: Developing the Mindset to Achieve Massive Success in Your Real Estate Business In this book, you're going to get a chance to peek behind the curtain and discover the truth about what it takes to succeed in the real estate industry in this new economy.
mike lewis' tag cloud