Núria Salán Ballesteros
Biography
Núria Salán Ballesteros va néixer a Barcelona, a la primavera de 1963 tot i que i als poquets dies la van portar a viure a Sant Boi de Llobregat, on ha viscut tota la seva vida.
Llicenciada en Ciències Químiques i amb l'especialitat de Metal•lúrgia és investigadora i professora a la Universitat Politècnica de Catalunya (UPC).
La seva part literària desperta ara ja fa uns anys, donant els primers fruits l'any 2011 que va guanyar el primer premi del Concurs de Relats Breus de Sant Joan Despí amb el relat breu El Curs de Gestió de l'Estrès, i amb la novel•la Quedem divendres? Inicia la seva etapa com escriptora fora de l'àmbit científic-tecnològic.
Books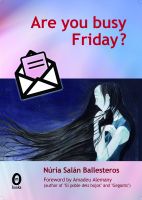 Are You Busy Friday?
by

Núria Salán Ballesteros
The story, written in the first person, is a collection of messages which form Maria's sustained monologue with the world. Through her e-mails we find out about the questions she is facing and sense the answers she is considering. The protagonist shares with us a story which will, inevitably, be the turning point in her life.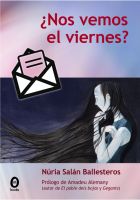 ¿Nos vemos el viernes?
by

Núria Salán Ballesteros
El relato, escrito en primera persona, recoge un conjunto de mensajes que componen el monólogo sostenido de María con el mundo. Con sus correos electrónicos, conocemos las cuestiones que se plantea e intuimos as respuestas que le proponen. La protagonista nos permite participar en el desarrollo de una historia que supondrá, inevitablemente, un punto de inflexión en su vida.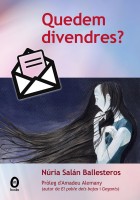 Quedem divendres?
by

Núria Salán Ballesteros
El relat, escrit en primera persona, recull un conjunt de missatges que conformen el monòleg sostingut de la Maria, amb el món. Amb els seus correus electrònics, coneixem les qüestions que es planteja i intuïm les respostes que es proposa. La protagonista ens fa partíceps del desenvolupament d'una història que suposarà, inevitablemente, el punt d'inflexió de la seva vida.
Núria Salán Ballesteros' tag cloud