Dutch Menard
Biography
This is where the author toots his or her own horn. It's necessary. You certainly have a right to know something about the writer of a book you're considering buying. I've been involved with real estate for more than 40 years—studying real estate and the related industry, as a fee appraiser evaluating virtually millions of dollars worth of nearly every kind of ordinary and specialty real estate located in 30 different states, buying and selling millions of dollars worth of real estate and consulting with many different groups and individuals regarding developing real property and investing in and improving existing real estate. What kind of real estate? Single family dwellings, condominium developments, residential and commercial subdivisions, working ranches and farm land, apartment complexes, high-rise hotels, large motels, office buildings, shopping centers, golf courses and many more specialty types of real estate. I've bought, operated and sold realty supporting restaurants, bars, campgrounds, marinas and many types of residential properties—to name a few. My books focus on sharing knowledge with you about evaluating, buying and selling real estate using the most creative and profitable means available—with a particular emphasis on using little or none of your cash.
Books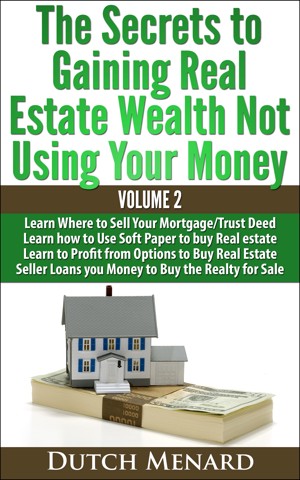 The Secrets to Gaining Real Estate Wealth Not Using Your Money
by

Dutch Menard
This ebook is written for people who want to buy and sell real estate but can't get started. You'll learn the steady, proven techniques to buy real estate without using your money. People profitably use these methods every day; they know the secrets. The methods and Internet resources here are added to those in Volume I. The keys to your real estate success are here. You need them to win.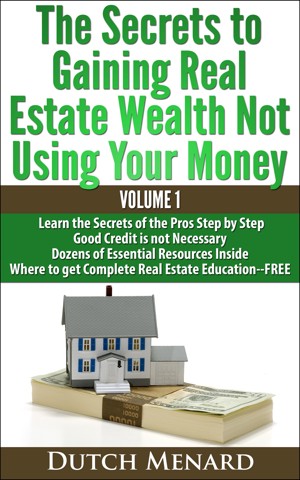 The Secrets of Gaining Real Estate Wealth Not Using Your Money
by

Dutch Menard
This ebook shows you several ways to buy real estate using little or none of your cash. The techniques you'll learn are tried and proven over many years. used throughout the United States daily. The individuals using these methods keep it quiet; but this ebook shows how to negotiate, finance, and close your deal—profitably. It provides you dozens of essential resources and astonishing websites.
Dutch Menard's tag cloud