Khalfani Yabuku
Biography
Khalfani B. Yabuku is a retired police commander of the Atlanta Police Department (APD) in Atlanta, Georgia. He has almost 35 years of law enforcement experience. He began his career in law enforcement as a Military Police officer in 1977. He joined the APD in 1984 and retired in 2011 after almost 28 years of service. He holds a BA Degree in Criminology and a Masters Degree in Public Administration/Police Management. He is the Owner/Operator/Chief Instructor of Atlanta based, Triple F Training, LLC (tripleftraining.com) – a company which teaches Fitness, Fighting and Firearms techniques to the law enforcement, military and civilian communities.
Books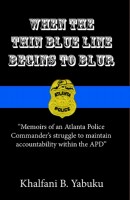 When The Thin Blue Line Begins To Blur
by

Khalfani Yabuku
In light of the increase in tensions between our nations' police departments and the urban communities they serve, this book offers a timely remedy for citizens and officers alike. The author skillfully takes us on a journey of his struggles to start the healing process between the Atlanta Police Department and the urban communities it's sworn to serve and protect.
Khalfani Yabuku's tag cloud