A.K. Moon
Publisher info
A.K.Moon, a Korean-New Zealander, is an aspiring writer who is currently living in New Zealand. She has a bachelor degree in Social welfare, a graduate diploma degree in early childhood education and certification in the school of Scenario academy. Her passion is learning about both the visible and invisible worlds while also writing about them. Her long term goal is to have beautiful soul enlightening people around her.
Where to find A.K. Moon online
Books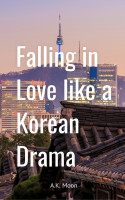 Falling In Love Like A Korean Drama
by

A.K. Moon
The title includes the unfamiliar words, 'Korean Drama'; however, it is just the background for a love story that transcends culture, language, and other incredible obstacles.
A.K. Moon's tag cloud