Oscar Chan
Biography
I grew up in Toronto, Canada where I spent most of my time daydreaming about plenty of ridiculous things. Things that usually end up with me tying a towel around my collar with an elastic band, pretending I was a superhero wearing a cape. That was until I actually tried to fly and ended up bumping my head! Needless to say, my superhero adventures usually left me in tears, but that didn't stop me from trying again the next day.

I find my inspiration in everyday things and events that tend to shape my perception of the world little by little. The only thing I can hope for is if you enjoy my work and that you are just as inspired as I am when it comes to dreaming up your own world or reality.
Books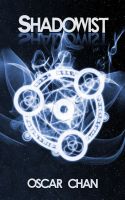 Shadowist
by

Oscar Chan
Shadowist is a prelude to a world filled with dark fantasy where imagined monsters actually exist and the line between the magical and reality blur. The mystical and supernatural engage in a battle for the fate of the human soul.
Oscar Chan's tag cloud