Olinda Capece
Biography
Olinda Capece is a qualified Psychologist from Brazil, who has been always interested in promoting people's growth through the right understanding of life. She has dedicated the past 25 years in India, meditating and searching for answers which could give a proper base to her work. During all these years, she has met many spiritual masters who have each contributed immensely to her path, enriching her work beyond Psychology and gifting her with a much deeper understanding towards herself and her goal.
Where to buy in print
Books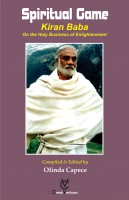 Spiritual Game - Kiran Baba On the Holy Business of Enlightenment
by

Olinda Capece
"Spiritual Game" is a compilation of Kiran Baba's Discourses, recorded during the period between 2000 and 2005 in Pune, when Kiran Baba was answering to all kind of questions related to the seeker and the search for enlightenment.
Olinda Capece's tag cloud