Om Prakash Nemani
Biography
Om Prakash Nemani, born on 5th September 1936, in Kanpur is a graduate in commerce. He did his early schooling in Kanpur and graduated from Lucknow University. He was awarded Gold Medal and Chancellor's Medal by Shri V.V. Giri, former President of India.

He started his career as a Probationary officer in State Bank of India. Since, he belongs to a business family he left the job after five years of service and started his own manufacturing unit. He is widely travelled and has vast experience of various fields of business.

Since, last 3 years he has come in touch with Sadguru Rameshji and is moving ahead on his journey on the path of spirituality. Nemani considers him a common man just like you living with family, earning his livelihood and moving in a society with very strong belief systems of happiness through materialistic success. His first book was HAPPINESS 24/7. It was widely appreciated and liked by the readers. He has now written this book to explain how the philosophy and teachings of Gita and Upanishads can be adopted and practiced in the context of present life and one can achieve the highest pleasure of love of the life and service to the mankind.

He can be reached via his face book page or via email at ompnem@gmail.com. Book can be ordered on Amazon and other on line portals..
Books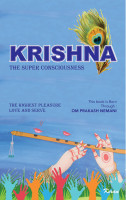 Krishna- The Super Consciousness: The Highest Pleasure Love and Serve
by

Om Prakash Nemani
Duty is Divine. Result is the outcome. Gita never says, don't have the goal but make the goal the mean not the end and enjoy achieving it. Gita is the ultimate Gyan which teaches us to enjoy our action. It was recited in the battlefield of Kurukshetra, when Arjuna was trying to shy away from the war.
Om Prakash Nemani's tag cloud