Arthur S. Berger
Biography
ABOUT THE AUTHOR

Arthur S. Berger practiced law as a City Attorney until his retirement from the law in order to deal with a subject to which he had always been irresistibly drawn and by which he had always been puzzled. He was both fascinated by the question of survival after physical death and troubled by the constant arguments and counterarguments over the quality of the evidence for life after death. Berger felt that, as a lawyer, he would be able to analyze the evidence and determine what was valid and what was not. He became active in the American and English Societies for Psychical Research, the Parapsychology Association and President of the Survival Research Foundation, a nonprofit scientific and educational organization whose mission is to search for valid evidence of survival of human consciousness after physical death.

Berger is the author or co-author of many nonfiction books dealing with parapsychology. These included: Lives and Letters in American Parapsychology (1988) described as "superb" by Parapsychology Review and selected by for its "outstanding academic list"; Evidence of Life After Death: A Casebook for the Tough-Minded (1988) and Aristocracy of the Dead (1987). He was also the co-author of Fear of the Unknown (1995), The Encyclopedia of Parapsychology and Psychical Research (1991) and Reincarnation: Fact or Fable? (1991
Books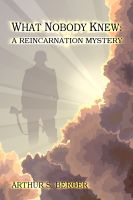 What Nobody Knew: A Reincarnation Mystery
by

Arthur S. Berger
A reincarnation researcher investigates a child's claim that he lived before as a soldier killed in World War Two. What methods does he use? Why does the claim make the story into one of love, lies, revenge, the paranormal? How does it cause the soldier's wife to become the target of a mafia hitman? What surprise ending changes everything?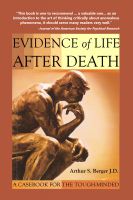 Evidence of Life After Death: A Casebook for the Tough-Minded
by

Arthur S. Berger
Are paranormal phenomena, such as the near-death experience, evidence of life after death? Only critical thinking will tell us. This book is aimed at the "tough-minded" reader who is open-minded and wants to form balanced judgments based on facts. Berger shows the reader how to think critically about these phenomena, the right questions to ask, the possible explanations to consider.
Arthur S. Berger's tag cloud