Onkar Nath Chaturvedi
Biography
A celebrity writer, retired Hindi professor, recipient of several awards from Rajasthan Sahitya Academy and other literary bodies, Dr. Onkar Nath Chaturvedi is a popular and respected name in the world of satire and Hindi literary research and short stories.
'Itwaar ki talaash me' is one of the 9 published books by Dr. Onkar Nath Chaturvedi. His articles are often published in Hindi daily papers and magazines. Many of his popular articles and stories have been translated & published in other Indic languages. He is a noted and inspiring speaker who is an invitee to several radio talks and literary forums.

Dr. Onkar Nath Chaturvedi is also known for a remarkable research work on one of the highly talented but forgotten poet from medieval age - Surya Malla Mishran. Through his relentless and insightful work, Dr. Chaturvedi persuaded the Government of India to recognize the literary contribution of this great poet from Bundi empire. In 1990, government issued postal stamp in the name of Surya Malla Mishran that re-established the lost glory of Rajasthan's poets.
Books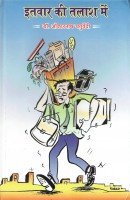 Itwaar ki talaash mein (इतवार की तलाश में)
by

Onkar Nath Chaturvedi
'Itwaar ki talaash me' is one of the 9 published books by Dr. Onkar Nath Chaturvedi. It contains 25 satire articles on general life of middle class Indians. Narrated in literary Hindi filled with humor and metaphors, this book provides a deep reflection on several social, political and life challenges of a common man. **PLEASE NOTE: Kruti Dev fonts are needed to read this book. Avoid PDF format**
Onkar Nath Chaturvedi's tag cloud