Susan Flowers
Biography
Susan Flowers is a retired nurse from Cape Cod, a mom, grandmother and great-grandmother of five who believes in the possibility of living a full life past 100, and has embarked on a new career path by becoming a personal trainer to "baby boomers". Sue is also a in the field of nutrition, yoga and meditation. Her newest book is coming soon "I've never been THIS old before" - it's all about my journey from fat, flabby, unhealthy and sick to healthy, full of vitality and energy (as well as being told I look ten years younger!
Books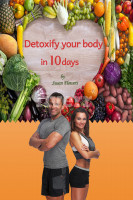 Detoxify Your Body in 10 Days
by

Susan Flowers
Detoxify Your Body in 10 Days is your outline to begin your way on the path to optimal health through the practice of clean eating. Even though it had taken me years of eating processed foods, I began to feel unwell and knew that something had to change. Following the 10-days my weight was down 10 pounds, my skin tone was glowing and I experienced an overwhelming feeling of well-being.
Susan Flowers' tag cloud