Ernestine Moore
Biography
My name is Ernestine I was born 08/04/1965 in Cleveland Ohio to Essie Moore and Harold Brook (whom I never met because he died before I was born).The man who I consider to be my real father and who I loved with all my heart was Samuel Williams. I reside in Detroit and have since I was 2 years old. I was raise on the eastside where my trouble life began with physical, sexual, mental, verbal abuse. I became a teen mother at the age of 15 and dropped out of school only receiving a 7th grade education. I lost my father during my third pregnancy and three more babies followed; giving me a total of 7 kids; six that I gave birth to and one daughter that I did not by the age of 23. I am now 43 and I still reside on the eastside of Detroit with a wonderful companion whom, God willing, I will be join in holy matrimony with one day. Throughout the years I have suffered a lot of abuse. I was married twice and did various jobs to support my family. I am now a grandmother of 12 beautiful children who I love with every ounce of my soul that I have in me. I am now also disabled due to an accident that I was in while working a transportation job. I have accomplished something that I would have never thought I could do with a 7th grade education; I wrote this book and currently working on the second part. I'm so proud of myself because I almost gave up on myself and life.
Where to buy in print
Videos
abuse woman
Breaking the cycle
Books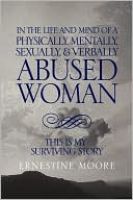 IN TE LIFE AND MIND OF A PHYSICALLY, MENTALLY, SEXUALLY & VERBALLY ABUSED WOMAN
by

Ernestine Moore
"Breaking the cycle." I am a casualty of Pandora's Box. As a result, I began to cover my pain by walking down" A Path of Destruction.
Ernestine Moore's tag cloud