Alena Schram
Biography
Alena Schram (aka the Opinionated Old Cow) grew up and attended university in Toronto. She has spent a lifetime trailing her husband John, a retired Canadian ambassador, around the world. Together they served in seven overseas capitals and raised three children. Still married to each other (and in perpetual, perfect harmony), they live on an island in Lake Ontario, where Alena spends her time writing about – and alienating – her family, friends, and neighbours. Her columns have appeared in Canadian newspapers and magazines as well as the International Herald Tribune (now the International New York Times).
Where to buy in print
Books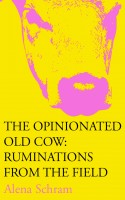 The Opinionated Old Cow: Ruminations from the Field
by

Alena Schram
After a lifetime of enforced diplomatic conduct, Alena Schram has begun venting her opinions on subjects dear to the dicky hearts of baby boomers: from the perils of Facebook, the annoying tendencies of husbands who co-shop, and the defective rearing of grandchildren, to sports cars for the menopausal, bras that winch, and chin hairs with minds of their own.
Alena Schram's tag cloud