John M. Jimenez
Biography
Over time I'm going to flesh this out more and more. Suffice to say I'm a romantic, born at least 500 years too late. But I'm here in the 21st so we'll see where I go as far as my writing is concerned. I write fiction primarily Sci-Fi, Horror and Fantasy and the subcats of Urban Fantasy/Paranormal Romance and Dark Fantasy. Of course the real fun (And Challenge)is to combine all three. In time I'll be working on some projects I have planned that are Steam Punk, Counter Factual, or Alternate histories as well as straight forward historical novels in the vein of Bernard Cornwell, Steve Pressfield, Wallace Breem and many others.
Where to find John M. Jimenez online
Books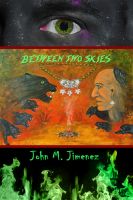 Between Two Skies
by

John M. Jimenez
Reed Piraeus didn't plan on his photo excursion to the Monongahela National Forest to be anything special. One last trip before winter set in - to take some butterfly pics and make some extra money by selling them to scientific publications. But then he encountered the old Indian and the seven black panthers with the glowing emerald green eyes and things would never be the same for him again.
John M. Jimenez's tag cloud