Edwin Olson
Biography
My first ebook is called the "Lose Little, Win Big Blackjack" Book. It came about by many,many, years of reading about and playing blackjack. During the years of research certain truths became evident. Puzzles have always fasinated me.
Finding a winning method of playing blackjack was the highlight puzzle of my life and I pursued it with vigor.
I dropped out of highschool to join the Marines in WWII. (My wife likes to say she married a high school drop out.) A month after I was discharged she married me, we were broke and in love and now we are reasonably well off and in love. With the help of the GI bill I attended college and after four years graduated in the top 3 percent of my graduation class as a life member of Beta Gamma Sigma, the international honor society for colleges of buiness administration.

The ebook "Lose Little, Win Big" you will find is the most important book written on winning blackjack in the last 100 years and you can test it out with a deck or two of cards or a computer blackjack program at home.

Ed Olson
Books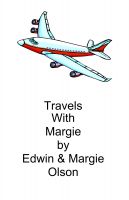 Travels With Margie
by

Edwin Olson
Travlers like to travel, read about far off places, plan to travel and talk about travel with other travelers when they return. This is what this book is all about. You will travel with us to far away places. Learn a few tricks that will make your travels more enjoyable and encourage those who haven't traveled to travell What more can be said? Travel with us!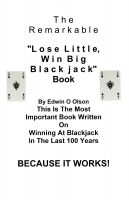 Lose Little, Win Big Blackjack
by

Edwin Olson
Professional blackjack players and have long recognized that gambling runs in streaks. Winning and losing streaks. This book will tell you how to keep from losing much during a losing streak. It will also tell you how to take advantage when you are in a winning streak. The less you lose, the more you win. Even Dr Thorp made a statement that you don't always win. May you Lose Little & Win Big.
Edwin Olson's tag cloud