Otto Kristen
Biography
When somebody talks about a Profile I always think about the old Latin term Curriculum Vitae
So I am going to kill you with boredom.To start with I have to set you in to a proper surrounding. Its early 1940 ties, middle of the Second World War, central Europe where some day Czech Republic will spring. Prague ,my use to be home town.
I started with music before I went to school. I remember as a kid ,on my way from a piano lessons, watching American and British plains in dogfights against the mighty German Luftwaffe. Many times hiding in the sewers when it got too close and too hot. With fear an utter despondence, watching the poor Allied pilots descending in their parachutes while being shot to bits by German machine guns.The air attacks drills and the real ones. Three building from our six plex was a two an a half story house.Three guys were drinking and playing cards, defiantly riding out the air raid on the top floor, sort of a half attic. When the torpedo bomb (which always is coming horizontally) hit,it smashed the main floors to bits, but these drunken idiots landed unharmed ,still sitting at the table ,mad as hell for spilled booze. War was horrible, but sometime wrote jokes, but that was very seldom. I had a crush on my father's friend's little daughter. Pretty little thing. They lived in downtown Prague. We were at their place one afternoon. The next day after air raid we rushed downtown to see the damage. There was a deep crater where her house was used to be. I started to learn music the same time as learning guns and ammunition. Death was nothing unusual. My cousin got torn to pieces by not properly handling a "pancerfoust"which is now known antitank rocket
I ask you to forgive me for this one only political remark. I was furious when G.W. Bush decided to wage these wars ,without too much caring to exploit other ways and means of solving these problems.The same time I am here, alive and grateful, because of the Americans joining the Allied forces after Pearl Harbour and thus winning the horrible war. And here we are again, still at that, trying to enforce our free and great ideas to cultures, which in spite greatness in past, stopped growing with time some two hundred years ago. Afganistan was lost to Soviet mighty army. Do we think that we will be more successful?Do you thing that Iraq will. on its own survive the pressure of fanatical religious forces?But enough politic. My main carriers in my life were music and architecture.Acting was ther also as a class clown and already a not a bad singer (as my mother told me) and actor in all kind of school festivities. Unfortunately later for reasons of a survival ,music, acting and singing became a kind of Cinderella.. My first "big time"professional acting was on stage of National Theatre of Prague when a boy portraying the page of a king in a Greek play Antigone did not show up and I was rushed to the stage in not quite fitting costume while being taught the lines. I portrayed a page to a king which was played by #1 acting star of the country. And I got payed. And all because I was with my father who was an operatic singer in his dressing room at that time. That was year 1946.Since than I did just about everything. Theatre (Snowhite and seven Dwarfs), three movies ,one as a leading role (sort of Disney style) and other as only child actor in a story. you can actually see it in Film Archives of Czech Republic. Than my life taken a drastic turn. My mother who was my coach and inspiration, suddenly died. A beautiful woman of 33 years of age. Everything seemed to stop My life as I knew it stoped .All my piano and singing and acting lessons stopped. My uncle who was my godfather and taken my upbringing from then on , was one of the leading architects in the country and his idea about my education was quite different. My father was than tied by long term contract as a operatic singer out of country at that time. My education taken a technical direction to architecture, But as you can imagine I never let go of my music. Along side architecture which I also love ,music became my saver, helped me financially to get me through school and so on. I became a fairly known pop singer and I sang solos in churches and I sang everything from Handel to Beatles.
In the Army I was heavily in to acting and directing and our group achieved first place in the country satyric category. In sixties I recorded few records (vinyl)and beside others (that are still being played from time to time)one of my songs was recorded (somebody else singing)by number one orchestra in the country ,orchestra of Karl Vlach, who was contemporary of Glen Miler with a similar style.
My last years in my native than Czechoslovakia ,I went fully pro in to music. I got an engagement to become a leading singer/actor in AUS, which was an artistic section of Arm Forces. Somebody tried to make a Czech version of Carmen Jones.I did not have my heart in it .My political situation was not that good aether. Some of us signed list against the policy of our government and so on. I was that time a member of Pragokoncert (assoc of artists) and I met two beautiful people husband and wife, who became my friends for life. We became Pastel Trio and very popular in Eastern Europe and Austria. We did East German Television very often (live),we recorded with Berlin Philharmonic Orchestra and so on. After Russian invasion all our contract were dismissed by East German government because we signed a protest against corrupted Czechoslovakian government and against Soviet occupation. It was time to leave. I emigrated to a country that gave me a new home and security ,my Canada. Here, it means in Saskatoon where I landed, I immediately picked up where I left of .Music. I started to conduct local church choir and I had few showings on Saskatoon TV.The long winter in Saskatchewan were pretty tough an so I moved to Toronto.But my friends from Pastel Trio ,who meantime emigrated to New York, called me to come down and live in New York. What a great idea. I moved there and life was beautiful. Tony (leader of Pastel Trio) became a very important piano tuner for all the prestige recording studios in Manhattan, had a lot of friends as Bet Midler and so on..I did fit right in with my knowledge of wood and refinishing of musical instruments. Carroll Music on 49th street was glad to have us.
We knew how a studio looks like after previous night of Rolling Stone recording session ,we delivered refinished instruments for Hair , Jesus Crist Superstar, Sesame Street on 56th st. and I was thanked and hand shaken by Duke Ellington in Rainbow Room in Empire State Building for refinishing his piano there. Only one little problem was here .I pro missed to a girl in Canada, that I come back. After coming back to Toronto I approached ,than huge personality in show business Mr.Billy O'Connor of TV show Misty Islands who ,having among others a booking agency.
He was going to place me with some very good orchestra in Toronto. But that time I got second time married and I was afraid that show business is going to damage my second marriage as it did the first. I wanted to make my marriage a success and I tried. I buried myself into business in design and construction. While designing ,I met a gentleman to whom I designed a Keswick Lake Simco cottage addition. He said ,"why don't you come to see me in Toronto.His name was Johny Lombardi.the owner of multicultural radio and TV station for whole Canada. And here I was doing weekly radio shows in Czech language and broadcasting my songs again. Than my friend Tony from Pastel Trio died in New York. Somehow it left a scar on me.I slowed down. The only think I was able to do was play in hotels and restaurants a piano, guitar or organ and do some singing. I got buried in my other profession and that was going on until, more or less just few years ago when I partially retired. I was writing songs all through this time ,but never performing again. After my partial retirement I found something I never had the luxury to have before .More time. With that came more music. I started to write songs that have something to do with every day's life. Tsunami, Katrina, Bombing in London, dead soldiers in Iraq and Afghanistan, The wall between Mexico and USA, you name it I written about it. You understand ,by now songs like I love you baby ,Rock me baby ,became most trivial to me. I know they always will be selling better than any others , but I am trough with it. I don't have to much time in this world and if I get a second chance in matter of reincarnation ,I might come back as a groundhog and as you know, groundhog can't play piano or sing. Therefore I want to leave something decent behind.
So I writen a musical about two school sweethearts from Brooklyn's vicinity of Verrazano bridge, being split by destiny and by death of parents and at the end their lives coming together again, but one of them is dying.Sad ending not too many people want to see these days, except Puccini's Madame Batterfly,Toska Manon Lescaut,Verdi's La Traviata, Rigoleto ,Bisett's Carmen and hundred of lesser known works, ending with death, murder and bloodshed, but mine. I got so many rejections that I became so resilient that at the end " no" did not sound bad to me at all. One evening I was looking for a new book to read and my wife Elsa (she is born in Sweden)said to me that she got me a new book about Russia. It called the New Russians, written by former New York Times correspondent, Pulitzer price winner and regular author of programs on PBS TV,Hedrick Smith.I contacted his office and after I sent my libretto to him he allowed me to use his book and his name as one of the inspirations for my opera, which had sprung from this idea. As my hero I have chosen the man who directly or indirectly was responsible for freedom of many people and who actually recognised the burden Communism was to more than one third of the world, with its injustice and usurpation ,of use to be sovereign nations by pressuring them in to submission. Because of him I was able freely to visit my native country after 35 years. He is my hero. The man, Mikhail Sergeyevich Gorbachev.He is still going strong,trying to spred the word of peace throughout the world. The opera has his name ,MISHA.And from his office in Moscow I gained a permission to publish.This is enough for now.I will keep you informed.(If you want)
Are you sleeping yet?
Beside my opera and the musical Girl next door I started to write poetry and prose.I started with short stories from my life laced with political and religion reflections which sometime have a bit of satire in it.I am thinking about publishing my poems one of these days.
Books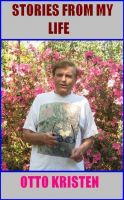 STORIES FROM MY LIFE
by

Otto Kristen
I don't know why I have to write anything in to this stupid frame if I don't want to,so if you want to read it just click on it and don't bather me.
Otto Kristen's tag cloud