Owen Donovan
Biography
Owen Donovan was born in Hong Kong in 1984 and raised in Bridgend, Wales. He studied biosciences at Cardiff University, specialising in anatomy. He started political blog "Oggy Bloggy Ogwr" in March 2011, and drew widespread praise for in-depth analysis of Welsh politics, as well as generating ideas and proposals as opposed to just offering commentary. He subsequently won "Best Political Blog" at the 2012 Wales Blog Awards.
Where to find Owen Donovan online
Books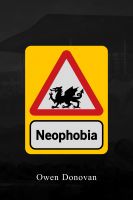 Neophobia
Kelly Barker's assignment was simple – write an article about Wales. It's a dull posting for any journalist. But behind every statistic there's a face. Behind every political decision, there's a consequence. Behind every good article, there's a bigger story. A national story.
Owen Donovan's tag cloud