Nicholas Ozment
Biography
Nicholas Ozment teaches English at Winona State University. He is also an author of speculative fiction, primarily fantasy, horror, and magic realism. With David Manning, he co-hosts MANNING'S MANLY MOVIES (http://manning.coldfusionvideo.com), discussing some of the more bizarre B-movies available on DVD. His short stories and poems have appeared in such print publications as WEIRD TALES, MYTHIC DELIRIUM, MYTHIC CIRCLE, DREAMS & NIGHTMARES, MYSTIC SIGNALS, BEST OF EVERY DAY FICTION TWO, and THE WILLOWS, and online at RAVEN ELECTRICK, AFTERBURN SF, SUSURRUS: THE LITERATURE OF MADNESS, CHAOS THEORY: TALES ASKEW, THE SMOKING POET, SORCEROUS SIGNALS, CLONEPOD, FLASHES IN THE DARK, EVERYDAY WEIRDNESS, and the horror podcast PSEUDOPOD. His essay "Gandalf's Staff, Prospero's Books: The Ethics of Magic in Tolkien and Shakespeare" appears in TOLKIEN AND SHAKESPEARE: ESSAYS ON SHARED THEMES AND LANGUAGE (McFarland Press 2007). His first book, the whimsical fantasy KNIGHT TERRORS: THE (MIS)ADVENTURES OF SMOKE THE DRAGON, is forthcoming from Cyberwizard Productions fall 2010.
Where to find Nicholas Ozment online
Series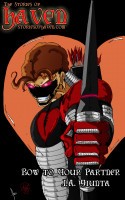 Books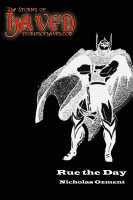 The Stories of Haven: Rue The Day
by

Nicholas Ozment
The Haven self proclaimed protector Jaguar is saved... by the most unlikely of heroes in the Haven Story by Nicholas Ozment. While the stories are not serial, you can pick up any in the series, this is officially Story #6.
Nicholas Ozment's tag cloud