Bo Dean Logsdon
Biography
All those years of classroom education has taught me little, except to pique an interest or two. The real lessons were learned "out there", including a four-year army stint, even shorter stints with ex-wives, a couple of cool kids, and, mostly, the lessons from low-paying jobs with high-experience returns. It's like my old man used to say, "It's hard to hit a moving target." That in mind, I always bring along my pals, Bob and Weave. In the end, it's about gold flakes in your pan, a basic consideration when you're hungry, and I am oh-so-hungry.
Where to find Bo Dean Logsdon online
Books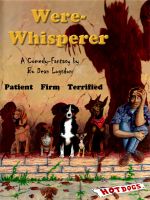 Were-Whisperer
by

Bo Dean Logsdon
Price:
$2.99 USD.
Words: 46,980. Language: American English. Published: April 26, 2013. Categories:
Fiction
»
Fantasy
»
Paranormal
The desperate villagers of the magical town of Peculiar, PA, send an e-wail plea for the mysterious Were-Whisperer, but through a series of online mishaps, they unwittingly hire an inept California dog-rehabilitator-in-training named Tom Ticks. Desperate to prove himself, Tom travels east, where he soon discovers that both he and the villagers have bitten off more than they can chew!
Bo Dean Logsdon's tag cloud