Pamela Bennett
Biography
Pamela Bennett was born in Coalinga, an infinitesimal town in the Central Valley of California. Though she maintains contact with her small town roots, for the last forty-eight years Pam's home has been in the greater Bay Area of Northern California. Pam graduated from U.C.Berkeley in 1977 with a major in physical education, which segued nicely into nursing school and a nursing career. Pam began working in neonatal nursing directly after nursing school, and never changed her focus or hospital. After thirty years, the repetitious nature of most hospital dilemmas became increasingly obvious and more irritating. In order to overcome aggravation and avoid pessimism, the Guerrilla Nursing project was born. Pam's hobbies, besides writing, include construction of rock projects (stone benches, retaining walls, etc.), forest maintenance (pruning and trimming), and genealogy.
Books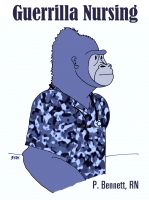 Guerrilla Nursing
By
Pamela Bennett
Price:
$4.99 USD.
Words: 28,960. Language: English. Published: December 17, 2012. Category: Nonfiction
A humorous presentation of behavioral advice for medical workers, primarily entry level hospital nurses. Techniques for preserving the nurse's sanity while optimizing patient care are presented in sample conversations and situations. Chapters are prefaced with a cartoon illustration highlighting an element of nursing or hospital life.
Pamela Bennett's tag cloud